Or you might not. Whatevs.
I was really impressed by my sister-in-law's new blog layout (
go check it out!
) that I started tinkering with mine. Make it a little cleaner, a little more mature. And then I had a full blown new color scheme on my hands! But I like it and I hope you do too!
Our big news for the month (or two) is that I found a job!
Cue mass excitement.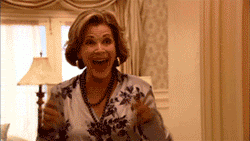 I'll be working with St. Jude's Medical on a team that processes and assesses product complaints for their products- mostly pacemakers and fibrillators. I'll have to pull out all of my old textbooks (and some Internet-sleuthing) to make sure I remember all of my circulatory pathways. It's still a contract job, but there's the possibility to stay on after the contract is up. I start Septemer 30th.
In the vein of jobs, Mr. E's got extended one more week, although shooting on
Wish I Was Here
by Zach Braff has officially ended. Mr. E's just mopping up the loose ends around the office and with post production- and then he's done! He's on the lookout for another project to work on as well.
Sort of seems like we're passing jobs off!
Keep on the lookout for this blog in October: I'm participating in
The Nester's 31 Days
, which means I'll be posting once a day every day for the month of October. Sort of like the
NaBloPoMo
I did in February, only this time I get to choose the topic! So I've got a little something near and dear to my heart, funny, sweet, sassy, honest and above all else, my own experiences. It'll be fun, I swear.
Movies This Week
What Dreams May Come
Monster's University